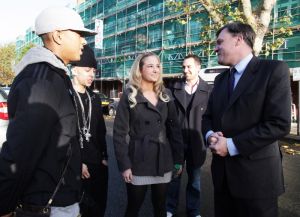 Brittish hip-pop trio
N Dubz
are reportedly in talks to sign a US record deal with
Def Jam,
home of artists including
Rihanna
and
Ne-Yo
.
N Dubz are flying out to US for a meeting in Janurary with Def Jam president
LA Reid
who was reportedly impressed after seeing the group perform in London recently.
Wow I really hope they do land a US record deal, they really deserve it.. after being out for the last 10 years working on music together.. performing all the time in there hometown Camden in North London.. they finally made it big in UK and landed a brittish record deal with All around the world records, released 2 albums and even got a UK number one this year!

I have been a fan for a while now and watched them grow and they have come so far already.. this is just the begenning!